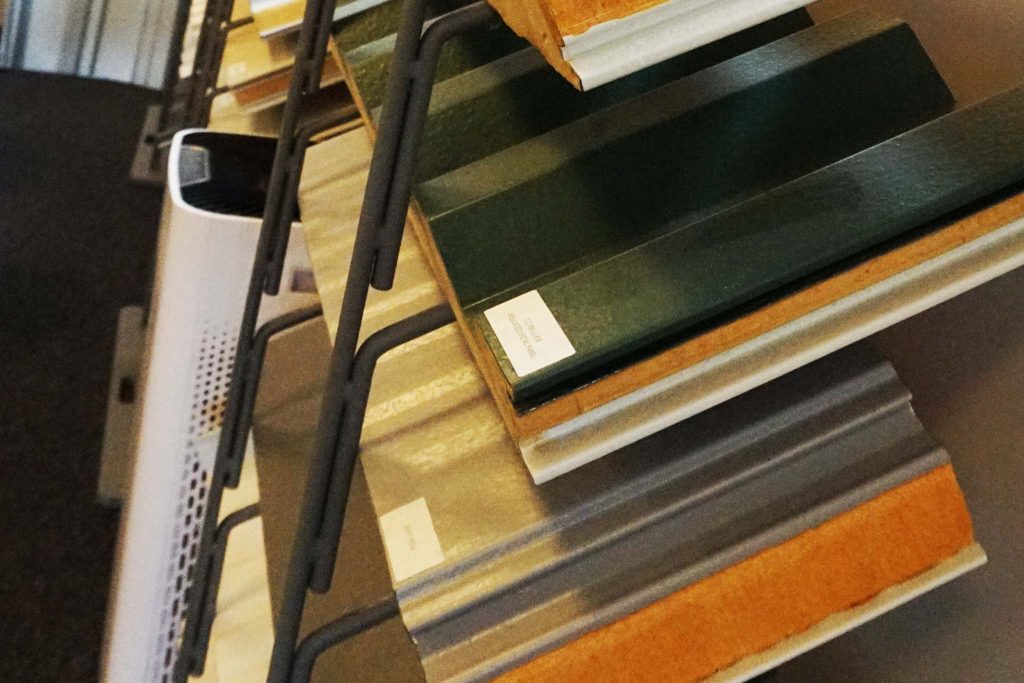 The Benefits of Insulanted Metal Panels
There are many benefits when building with insulated roof and wall panels for your steel building. Architects recommend insulated metal panels (IMPs) as they are ideal for wall and roofing applications, help with energy efficiency and add value to the overall building's design. IMPs can be installed on conventional steel structures, wood-framed buildings, or pre-engineered steel buildings.
The demand for insulated panels continues to grow nationally across markets. Using insulated metal panels can help protect your building investment. These panels offer a sustainable design for building owners, architects, and contractors. IMPs offer excellent R-Value with an energy-efficient design.
What are IMPs (Insulated Metal Panels)?
Insulated Metal Panels (IMPs) are exterior wall and roof panels with steel skins and an insulating foam core. IMPs provide strong thermal and moisture barrier. Insulated metal panels offer numerous advantages versus traditional building materials.
What Is R-Value?
The insulating material's resistance to conductive heat flow is measured, or rated, in terms of its thermal resistance (or R-Value). The higher the R-Value, the greater the effectiveness of the insulating layer. Note that R-Value depends upon a few things: insulation type, its thickness, and density. Other considerations include temperature, moisture accumulation, and aging. The amount of insulation (or R-Value) needed depends upon the climate and type of heating and cooling systems that exist for the building.
Tip: When calculating the R-Value of a multi-layered insulation, add the R-Values of the individual layers.
Insulated Metal Panel Benefits for Steel Buildings
Insulated Metal Panel (IMPs) benefits include building performance, sustainability, and cost savings for the builders, architects, and contractors. When using an insulated metal panel, versus the traditional fiberglass insulation, you minimize water wicking.
Design Flexibility
IMPs require minimal maintenance and last longer. They easily adapt to the other building materials, which helps streamline the total project plan that can greatly assist in saving time.
Some insulated metal panels use a ribbed design with a premier polyurethane foam core, which provides improved thermal performance. There are many beautiful design options that can easily be incorporated into all aspects of the building's design plan, with panels that can be installed vertically and horizontally offering design flexibility. Panel designs come in many colors and styles, applied finishes, and even customization offerings. While compliant with building energy codes, less insulation space is needed.
Cost Savings
When designing a new building, incorporating IMPs can help builders save money. Since IMPs are lightweight, it makes a faster assembly and easier installation, while helping you save money in labor costs. Installing insulated metal panels can help reduce the building's framing cost in both material & labor, with the use of fewer structural supports.
Ease of Installation
Insulated metal panels are made of composite panels and use a concealed fastener system, which are easier to install.
Sustainable Benefits
Insulated steel panels help mitigate thermal bridging and thermal drift. When builders use IMPs, they help contribute towards credits in the Leadership in Energy and Environmental Design (LEED), green building standards, and meet energy efficient codes.
When designing steel buildings, the insulated metal panels can help reduce construction costs. A Kingspan study* demonstrates that reducing embodied carbon in buildings does not have to cost more. Using select* IMPs, instead of a concrete wall assembly, could save on both construction costs and embodied carbon.
Builder Tip: Secure insulated metal panels that can be used in both interior and exterior applications. This provides design flexibility for the architects.
*Based on a study by Kingspan on its QuadCore IMP wall system.
Package Steel Support
The popularity and demand of insulated metal panels continues to grow. About 30% of Package Steel System's recently-designed buildings implemented using insulated metal panels (up from 15% previously).
Package Steel Systems offers insulated wall and roof panels. We can work with you and expert architects to design a steel structure with energy saving solutions. We can help you secure the right materials and create the building design for use with insulated metal panels.